Having a professional construction website and online presence is vital to maintaining awareness and dominance of your construction company's brand in your area. We live in an age where customers are researching your accomplishments, experience and capabilities as a construction company before they even request a proposal. And with the internet, customers are able to swiftly compare your offerings to all of your competitors. With all of this in mind, you better hope that your good construction work is not the only thing helping you stand out from the crowd, but that your online presence is too.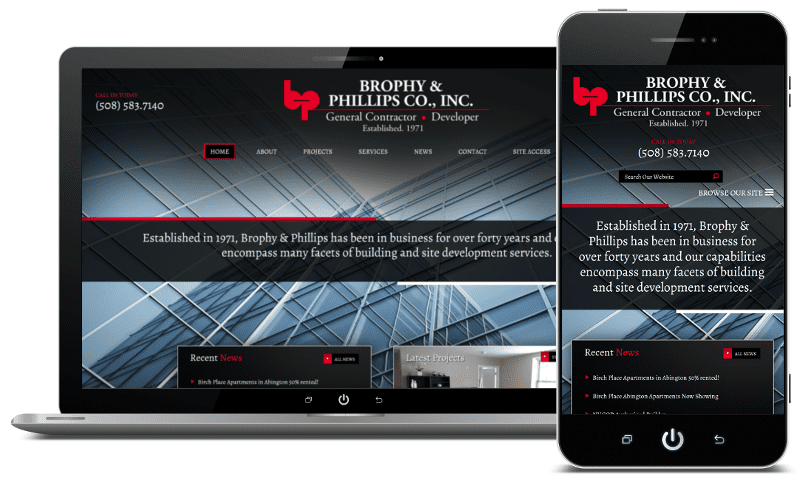 But what if it's not? Despite how good your company is at construction, what if some of your competitors still get more business because of their stronger online presence and marketing game?
Establishing an online presence that is strong and competitive takes technical skill, a lot of hard work and perseverance.
We at Interactive Palette can do the hard work for you, so you can continue to focus on construction. We can give you an online presence through website design and maintain that presence with website maintenance and internet marketing.
Construction Website Design, the foundation of any online presence
Your website itself holds a lot of potential, as it is the wellspring of information about your construction company and the communication necessary to bring potential clients closer to choosing you for their project. We at Interactive Palette make sure your first impression is as good as it can be, and that it moves visitors closer to that request for a proposal, or whatever the next step in the sales funnel may be. Part of this process involves making sure your website is easily reached by desktop or mobile devices through our responsive and mobile-friendly approach.
Construction Website Maintenance and Internet Marketing
A construction website and effective online presence doesn't happen through a one-time setup experience, but requires a regular maintenance and marketing process. An outdated website with old information or content is not compelling to your potential clients, and will not vouch for you over your competition. We work to keep your website from becoming outdated by maintaining fresh and current content. We also keep your website from becoming outdated in the search engines, as they are constantly changing, tweaking and fine-tuning the way they produce results. It is a marketer's goal to keep up with them. This is a full-time job in itself, and it is often beneficial to outsource this type of work to a company like us! We employ the best internet marketing, content marketing and SEO to help you get that top-ranking spot on the search results so that your services keep showing up to people searching for them. We understand that maintenance is a huge part of our job, and we make sure to periodically review each of our client's sites and suggest any updates or changes that might enhance a visitor's experience and increase the site's productivity.
Creating an online presence for your construction company can truly take a village. If this is how you're feeling, then you've come to the right place.
Your customers are checking you out on the internet, making decisions and choosing between you and your competitors. Don't fall behind because your construction company's online presence is lacking.
Choose Interactive Palette today. We hit the nail on the head when it comes to website design and online marketing.